The AWA MODULA 50 system produces up to 500 litres per day of very high quality water.
Alongside water production for a simple system, the AWA MODULA 50 system can also be configured to integrate and complement existing HVAC (Heating, Ventilation, and Air Conditioning) systems by simultaneously producing:
Primary Cool Air at 22°C

Heating of external water source to 50°C up to 540 Litres/Hour
The utilisation of the HVAC (cool air, hot water) energy produced during water production can provide substantial energy cost savings which can totally offsets the cost of water production.
The AWA MODULA 50 system can be easily installed in private homes, hotels, resorts, residential buildings, hospitals, farms, camps, communities, greenhouses, hydroponics and irrigation.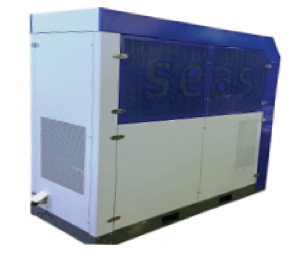 | CHARACTERISTICS | AWA MODULA 250-W-X |
| --- | --- |
| Nominal water production at 30°-70% R.H. | 500 litres/day |
| Installed electrical power | 7 kW |
| Power Supply | 400 V ± 10% /3 Ph /50 – 60 Hz |
| Energy consumption | 0.28 kWh/litres ± 5% |
| Cooling circuit coolant | R134a |
| Sound pressure level | 55 dBA (at a distance of 10m) |
| Size (W x D x H) | 2205 x 950 x 1870 mm |
| Weight | 625 kg |
| Operating range | from 5° C / 90% R.H. to 50° C/10% R.H. |
Available heating thermal power (Water)
22 kW – 540 litres/hour 50°C
Available cooling thermal power (Air)
2300 m3 / hour at 24°C and 40% R.H.
Water Treatment System Option(s)
Basic
Drinking ECO
Drinking Premium